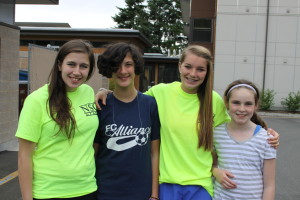 We've include just a few quotes from parents, coaches and campers to help you know how Northwest Soccer Camp making a difference .

We are heading out to WA again this summer and our 12 year old son, Nathaniel would like to come back as a resident camper for his 4th year.  He has played soccer here in North Florida for 8 years and select soccer for 4 years. In addition, he played on his school's varsity team as a 6th grader this past year. Nathaniel has really grown as an athlete and as a young man. Your camp continues to inspire more confidence in his abilities yet also a high level of compassion for his fellow players. Everyone wants to win, but keeping our children grateful, humble and proud of themselves says even more. I cannot tell you how amazed I am that he loves this camp so much that is willing to go solo this time. That says more than words!

Jackie Kennard – parent

Northwest Soccer Camp is the highlight of summer at my house. I grew up in Seattle and attended camp over 20 years ago as a kid. Now I have 2 kids and I continually receive joy from soccer as a youth coach, a "soccer Mom," and playing soccer myself 2 times a week. Going to camp is something we look forward to doing together as a family.
My kids love camp for lots of reasons–the evening activities, the beach hikes, the friends, the crafts, the counselors, and of course, SOCCER!! There is something for everyone, be it a newcomer to the game or an advanced player. We will continue to attend NSC for the love of the game and the fabulous staff. Thanks Cliff McCrath!

– Shannon Pelkey
First of all, THANK YOU so very much for all you've done for my girls' team from Alaska. They had a ball and, of course, came away with better skills and a better understanding of what it takes to be an elite athlete! The staff at NSC is second to none!
– Coach Steve Day, Futbol AK
I'll admit it: I'm an unabashed and unapologetic supporter of Northwest Soccer Camp. Not only do I believe it represents the best soccer camp in this region of the country – and possibly the United States – it represents a tremendous value for our whole family. To put it simply, over the past decade, NSC has become part of our summer vacation planning.
Here's why:
As a parent,  I am continually looking for ways to provide positive experiences and learning opportunities for my child. By attending NSC, our kids get a chance to work hard at something they love. In the process, they are making new friends and reconnecting with old ones. Meanwhile, they receive supremely high-quality coaching – specifically directed toward their skill sets – and in a fun and focused manner. And don't overlook the fact that because parents are allowed to visit and observe the program in action, I get the chance to share and bond with my child in a rare and unique way – highly recommended!
As a coach, I am continually looking for means of improving and expanding my ability to teach (and reach) players. There is no better or efficient means of achieving this, in my opinion, than by interacting with Cliff and the coaches who are always available and willing to share their coaching tips with parents. Getting this type of opportunity to play the game and talk "shop" with other coaches – while receiving hands-on experience and evaluation – has proven to be one of the wisest coaching decisions I have ever made.
Finally, maybe the most important thing of all is that campers get to spend nearly a week with Uncle Nubby – the nicest man on the planet.
– Ben Pecora, Parent, Coach, Player
I love Northwest Soccer Camp! I grew up on the Northwest Soccer Camp fields. I not only learned about soccer, but was encouraged to pursue my dreams and deal with life. Uncle Nubs and the veteran NSC staff helped me to reach my potential as a soccer player, and pushed me to be the best person I can be.
– Michelle Akers – FIFA Player of the Century
My daughter absolutely loved camp. She's so charged up about soccer – I've never seen her so enthusiastic. … her skills took a quantum leap forward … Her first touches are perfect; she passes right on target; she's always communicating with teammates; she knows where to run off the ball; she even WANTS to chest trap!! … She never had a coach get after her so much, and be so knowledgeable about the game. And the evaluations are positive, but remind her of the things to continue to work on. … She also said you gave the most phenomenal motivational speech on Tuesday night. I asked her what you said, "Well, I can't remember, but it was GREAT." " … You made a big difference in my daughter's life.
– Steve S. – Parent
I really enjoyed camp and I learned so much, I plan on coming back next year.
– Maya – Camper
We chose Northwest Soccer Camp because of its excellent reputation, but also, along with soccer skills, I wanted my daughter to learn 'life skills' . . . . how to be 'okay' with being away from home, learning teamwork, making new friends . . . . Her time with you has meant SO MUCH to her . . . . she loves it!  She has made lifelong friends and learned so many things during her time at camp.
– Parent
Northwest Soccer Camp has an incredible setting, quality fields, and an experienced and fun coaching staff, which, in my opinion, makes NSC the best soccer camp experience in North America. I think so much of the NSC experience that my 2 daughters Meredith & Madeleine attended camp four years in a row, and we live in St. Louis, MO. The last couple of times they even brought 4 or 5 friends with them!
– Ty Keough – Parent, ABC/ESPN Sports Analyst
I like playing soccer because it improves my physical skills and keeps me healthy.  But it's also just plain fun! … (NSC is)… my favorite sports camp!  The coaches are so awesome and I learned a ton from them which makes me a great player.
– Will – Camper