Resident and Day Camps
Each camper receives the same basic experience at every camp offered throughout the summer. The experience is based on the premise that every soccer player needs to focus on both technical and tactical training, as well as the psychological aspects of teamwork, sporting behavior and individual challenges. Our program, aided by an outstanding staff and well-prepared curriculum, is structured to begin with each camper's skill level and the challenge to attain the highest level possible by the end of the week.  In addition, specialty weeks are offered for campers that demonstrate more advanced skills.
World Class Goalkeeping and Finishing School featuring England's Paul Barron, Marcus Hahnemann currently of the Seattle Sounders, and Steve McCrath Barry University Men's Soccer Coach. This exciting week kicks off the 2015 season and comprises specialty goalkeeping training and dynamic finishing programs for resident campers ages 12-17.  Please note that day campers are eligible for this program, albeit the rate (see schedule) is different than the standard Day Camp program offered at the same time. This session features a week of all-round soccer training led by Paul Barron, one of the top goalkeeper trainers in the English Football Association, whose star-studded career as a goalkeeper trainer in the EPL is without peer. It is notable that PB, as we call him, aided by such area goalkeeper trainers as Sergio Soriano, has trained hundreds of campers who enjoyed legendary careers in college and professional soccer. Marcus Hahnemann, who played for Uncle Nubby–winning the 1993 NCAA National Championship, is currently a member of the Seattle Sounders. Field Player Finishing School, directed by Coach Steve McCrath, many of whose players have gone on to play professionally, focuses on attacking in the final third.  Training will include small-sided exercises on the art of attacking, finishing, scoring, competing against those being trained at the highest level in the art of goalkeeping.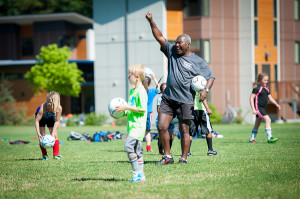 Edu, from Brazil is the "pied piper" of soccer and a special guest of Northwest Soccer Camp. Edu's connection with camp began when he and Paul Mendes (charter NSC staff member and also from Brazil) met at Green Lake in Seattle over 10 years ago while Edu was conducting a day camp.  The two spent some time talking about Northwest Soccer Camp's great staff and one week later Edu stopped by for a visit.  The following year he came back and volunteered to train players and has been doing so ever since.
Edu appeared on the Brazilian soccer scene at age 15, when he signed his first professional contract with Santos FC, Pele's club. One year later, in 1966, he was named to the Brazilian national team and traveled to England as the youngest player ever to participate in a World Cup. He was a teammate of the great Pele for thirteen years and continues to be his best friend. They were one of the most feared duos in the game and together scored over 1500 goals. It is notable that Edu was credited with assists on approximately half the goals Pele scored.
Together with our Elite Week, our Edu Weeks (ages 7-17) are some of the most popular camps of the summer!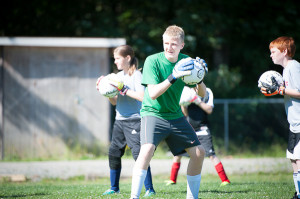 Elite Week-–in its twenty-third year–offers the elite player (ages 12-17), as well as the soon-to-be-elite player, a week of intense, no-nonsense soccer designed to prepare him/her for advanced play as well as high school and college level performance. This session is for serious soccer players complemented by an exceptional coaching staff, directed by our own Steve McCrath, the winningest Men's Soccer Coach at Barry University, many of whose players have gone on to play professionally, and  featuring college and professional coaches from around the world.  In addition, one of the most unique segments of the Elite Week experience is the power and explosion program directed by Dr. Kenneth Foreman, US Olympic Hall-of-Fame Coach, his wife Denise, and Dale Kennedy–legendary coach from Montana State University.
Weeks 5 and 6 offer our traditional program (ages 7-17), with all the benefits of other weeks, including a focus on aggressive attacking and dribbling as well as shooting. Both are excellent opportunities for Team Training and have proven successful as preparation for team tryouts at all levels, including college. These are end-of-the-summer weeks you don't want to miss!