Northwest Soccer Day Camps provide the ultimate training experience for today's up-and-coming soccer players–Future Stars ages 7-9; Field Players and Goalkeepers ages 10-17; as well as specialty camps for ages 12-17 which include Anson Dorrance Soccer (girls only), World Class Goalkeeping and Finishing School, and Elite Week.  Our camps are a great way to spend a week with friends and our peerless staff.  The program focuses on improving technical skills in a camper-friendly atmosphere. Each day, campers work on all of the basic skills necessary to become complete players. Day campers are trained in the tactics of the game and included in the ever-popular resident camp league play.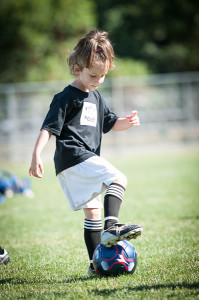 NSC includes instruction for boys and girls, ages 7-17, beginning their soccer careers, as well as those at a more advanced level of play.  Training is offered Monday through Friday. Day campers need to arrive at 9 a.m. daily and be picked up at 5 p.m. Monday through Thursday. On closing day, camp concludes with an awards ceremony beginning at 11:15 a.m.
Our coaching staff is selected for their ability to challenge young soccer players to improve and advance their playing skills.  They also strive to provide each camper with experiences replete with hard work, as well as fun and the value of teamwork.  Our coach-to-camper ratio for ages 7-9 is 1:8; for ages 10 and above, the ratio is 1:15. However, our team teaching concept sometimes means a 1:1 ratio. The underlying philosophy is that each child is an individual needing the utmost in personal attention and tutoring. This provides a meaningful learning environment for each child and allows for greater interaction between coach and player.
Day campers can expect one challenging training session per day in addition to league games each afternoon. Sessions focus on basic skills and the development of technical and tactical play, as well as fitness, good training habits, and good sporting behavior.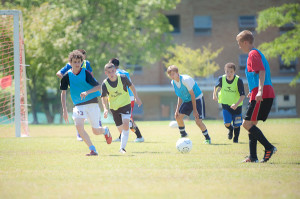 For Elite campers, evaluations–providing comments and perspective from each camper's coach–are distributed at closing ceremonies. Each evaluation is handwritten by the coach, which provides a personalized approach.
Off-field activities include everything from proper rest breaks to fun-filled activities and Camp Store. The Bastyr campus, located on the northeast shore of Lake Washington, offers a friendly and scenic setting that provides a quiet, sylvan atmosphere for training and relaxation. Campers choose from a variety of indoor and outdoor activities, including soccer-adaptable games and other free-time options such as trail hikes, Campus Olympics, movies (mostly big time soccer games), and one of the finest arts and crafts programs–all under the watchful eyes and gracious tutelage of caring counselors.
All goalkeeping sessions are designed for beginners through elite-level play.
Day campers should bring a sweatshirt, water bottle, and a pair of tennis shoes each day.  Footwear should be well broken in before camp to help avoid blisters and ensure full participation in camp activities.
Please see Camp Descriptions for details on each of the six weeks.  Weeks 1 through 3 offer our Complete Skills Day Camp program for ages 7-11 and specialty programs for ages 12-17–Anson Dorrance Soccer June 29-July  3 (girls only),  World Class Goalkeeping and Finishing School July 6-10, and Elite Week July 13-17.  To request an exception to an age limit, please call the office at 1-800-406-3926 or 425-644-0470.  Week 4 is Edu Week for players ages 7-17. This popular week always centers on the joy of soccer and Brazilian concepts of play, with our longstanding emphasis on fundamentals of the game.  Week 5 offers our Complete Skills Day Camp for ages 7-9, Jr. Advanced for ages 10-12, and Advanced for ages 13-15.  Week 6 offers the Complete Skills Day Camp program for ages 7-15.
Enrollment is limited.