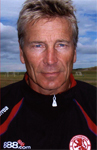 Northwest Soccer Camp is proud to offer quality resident and day camp goalkeeper training every week of our summer season for goalkeepers ages 10-17. Please note, however, that the opening week of the summer is the only time Paul Barron is available.
Week 1, June 28-July 3, features World Class Goalkeeping with Paul Barron and Marcus Hahnemann plus Finishing School with Steve McCrath.
Goalkeeping training is headed by Paul Barron (PB), former professional goalkeeper for 15 seasons in the English Premier League. Our program consists of comprehensive goalkeeping sessions, covering the basic fundamentals of shot-stopping, positioning, footwork, handling, distributing, crosses, and breakaways.
Tactics include situational play, game preparation, communication, and environmental conditions.
Field Player Finishing School focuses on attacking in the final third. Training will include small-sided exercises on the art of attacking, finishing, scoring, competing against those being trained at the highest level in the art of goalkeeping. During Week 1 (World Class Goalkeeping) and Week 3 (Elite week) training is for players ages 12-17.