Please see our Special Offers page for details on opportunities to save.
Registering Online is Fast, Easy and Accurate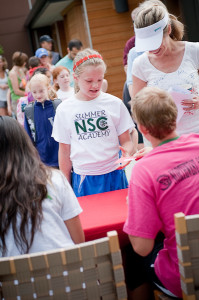 Online registration is the preferred method of signing up for camp. Online, you can get the most current information on camp availability.
Click on Register Now button by the camp you wish to register for.
You may also register by calling 1-800-406-3926.  Use this method to request an age limit exception and to have discounts applied.
Payment Options:
Resident and Day Camp:
Payment in full at the time of registration.
Pay $150 deposit and final payment by Final Payment Due Date.
Final Payment Dates: June Camps are due May 1, July Camps are due June 1 and August Camps final payment is due July 1.
Authorize automatic billing of your credit card at time of registration
Please take a minute to review our policies regarding transferring from one week to another, cancellations, and no-shows before you register.
RESIDENT CAMP TEAM TRAINING
To have your TEAM train and room together at an NSC resident camp, please send a message to help@nwsoccer.org providing us with the camp date desired, your team roster, the number you anticipate will register, and instructions stating that your team is to be trained and lodged together.
One coach per team may attend as our guest. Allowing time for completion of the requisite background checks, please indicate if you or other coaching staff will be visiting to observe training sessions. Additional coaches are welcome to observe their teams (always checking in with camp staff upon arrival); however, meals and lodging must be arranged separately. Please contact us for a list of nearby facilities.
When 8 or more team members attend resident camp, those who have not received any other form of discount are eligible for a team discount of $50.00.
Register your group in one of two ways:
Collect and mail all completed registration forms and Parent-Athlete info sheets (concussion waivers), which may be downloaded from www.nwsoccer.org; your team roster; and deposits in one envelope. On the paper registration form, use your TEAM name for "roommate preference."  As coach, you have the option of providing us with pairings (two per room) at least two weeks before your camp session begins.
Send your team roster to the NSC office (help@nwsoccer.org). Instruct parents of each member to register online, including the TEAM name in the space provided for "Housing Request" information. When 8 or more have signed up, please contact us to verify registrations, at which time discounts will be applied.
Any questions?  Don't hesitate to contact us at 425-644-0470 or help@nwsoccer.org  We're happy to help.
Other Registration Methods
Registration by Mail:
Fill out the registration form (download it here). Please include your credit card and billing information in the payment area of the printed registration form or pay by check. Fill out the forms completely. Read more about Final Payment Dates and our Cancellation Policy.
If mailing, retain a copy of the form for your records and send the original to:
Northwest Soccer Camp
10003 N Division Ste. 100
Spokane, WA 99218
Registration by Fax:
Follow instructions for mailing and fax to 1-509-467-6289. Follow up with a phone call to 425-644-0470 or email help@nwsoccer.org to ensure that the registration form was received.
Your satisfaction is important to us and all registrations are processed upon receipt. If you do not receive confirmation within one week, please let us know so that we can quickly resolve the issue.