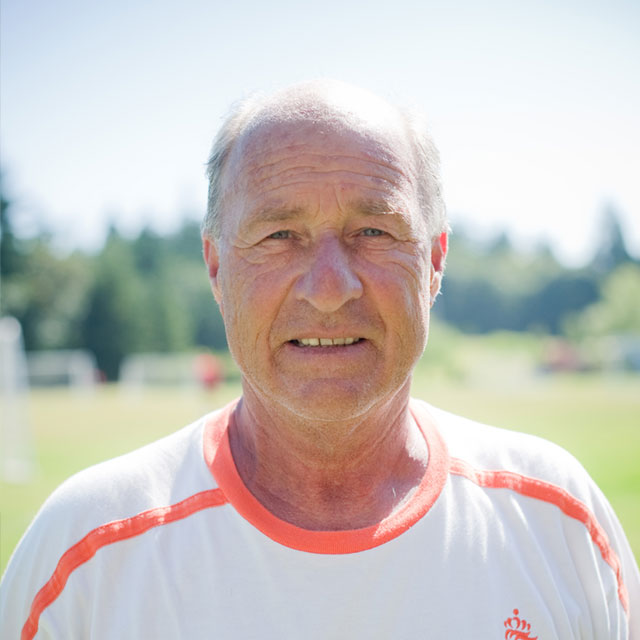 Hometown:
Helmond, Holland
Residence:
Santa Barbara, CA
College:
Westmont College
Assistant Coaching Director Honolulu Bulls
USSF "A" coaching license
Swiss Soccer Federation International "B" license
Royal Dutch KNVB Certificate
NSCAA National Youth coaching license Level 5-6
1972 National Champion, Westmont College
Former Assistant Coach for the United States Mens U20 National Team
J.P has been coaching at Northwest Soccer Camp for over four decades. Each year he brings a higher level of enthusiasm, coaching insights and love for teaching the game of soccer to kids.
J.P. has over 25 years of coaching experience with 10 years at the University of San Francisco (1990-2001), an NAIA National Championship with Westmont College, and two final four appearances with the University of California at Berkeley, and the US Olympic Development Program.  He holds national coaching licenses in the United States and Switzerland.
J.P. began his playing career as a youth in Holland for Helmond Sport/Sports Club of Helmondia and continued with collegiate soccer at Westmont College where his team won the National Championship in 1972. He also played professionally in the NASL with the LA Aztecs and in the ASL with the Connecticut Yankees and Santa Barbara Condors.
J.P. finished high school in Europe and speaks Dutch, German, and English. He is also an accomplished international author. He has written several instructional articles and books and narrarated a Dutch soccer film. His 1981 soccer instructional book, Soccer: Do You Know the Rules?, is currently in its second edition.