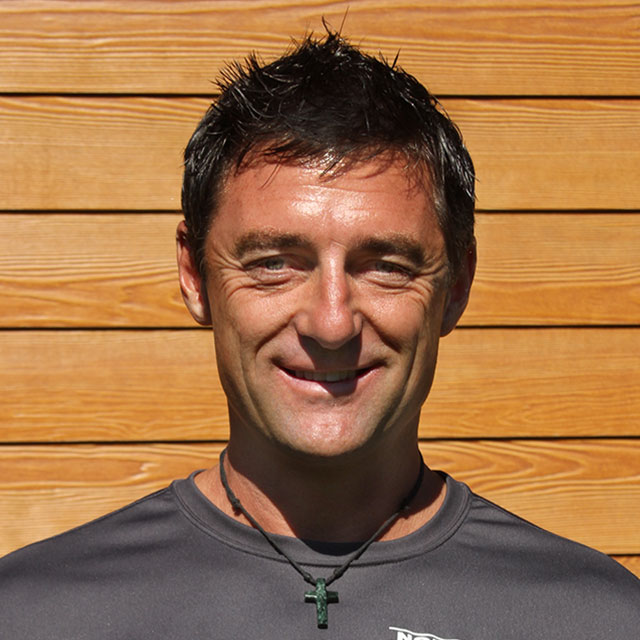 Hometown: Seattle, WA
Residence: Miami, FL
College: Seattle Pacific University
Head Coach: Barry University 1998 to present
USSF "A" coaching license
1986 NCAA Division II National Champion
1992 King County High School Coach of the Year
4-Year Letterman
Steve "Seve" is a lifelong fixture at Northwest Soccer Camp first as a camper and now as a staff member.
With over a decade at the helm of the Barry University men's soccer program, Steve McCrath is one of the top coaches in collegiate soccer. Entering his 19th season with the Buccaneers, McCrath has compiled an impressive 201-98-33 record to make him the winningest coach in Barry history and the third winningest active coach in the Sunshine State Conference with a .603 percentage. McCrath has been named Sunshine State Conference Coach of the Year four times during his tenure with the Buccaneers in 1998, 2000, 2002, and 2010. He's also been named South Region Coach of the Year, coming in back-to-back seasons during the 1999 and 2000 campaigns.
With eight appearances in the NCAA Tournament including three straight from 2009-"˜11, the Bucs are no strangers on the NSCAA national poll. Since 1992, Barry has ranked in the Top 20 13 times. Since his first season in 1998, McCrath has led his team to eight NCAA Tournament appearances. In 1999 and 2000, the Bucs were selected to host the NCAA National Finals and finished runner-up to Cal State- Dominguez Hills in 2000 after a four-overtime loss.
Since 1999, the Bucs have claimed 19 All-America awards. Alen Marcina, the Bucs' all-time leading scorer, earned three from 2000-02. In 2010, the Bucs set a program record as four players picked up All-America awards, including SSC Player of the Year Sascha Koettig, forward Mark Anderson, defender Joe Conkleton and keeper Johnny Rodrigues. In 2011 Anderson also earned SSC, South Regional and National Player of the Year honors for Division II.
In all, McCrath has coached 50 All-SSC picks, seven SSC Players of the Year, two SSC Freshman of the Year recipients, 27 NSCAA All-South Region picks, four Daktronics All-South Region selections and all 12 of the Bucs' NSCAA All-Americans.
The Bucs posted undefeated seasons at Buccaneer Field in 2001, 2003 and 2011, winning 11 matches at home in 2003 to establish the school record. Overall in the friendly confines, McCrath has a 71-18-7 mark for a .776 winning percentage.
Several McCrath disciples have gone on to play professionally, including Marco Velez, Marcina, Mark Anderson, Jacobi Goodfellow, Andy Hylton, Greg Jehs, Devala Gorrick, Alonso Alamo, Andres Perez, Alex Chorinos and Jon Samford.
A highly-decorated player and coach, Steve was a four-year letterman at Seattle Pacific. He helped the Falcons to the 1986 NCAA Division II national championship and was captain of the 1989 squad. As a senior, he earned first team NCAA Division II All-Far West Region honors. During his four career at SPU, the Falcons recorded a 60-20-8 overall record and advanced to NCAA post season play three times.
He also played professional soccer with the Seattle Storm of the Western Soccer League and later signed on with the indoor Milwaukee Wave of the National Professional Soccer League. In 1993, he led Murphy's Pub to the U.S. Men's Amateur national cup championship, starting as a defender. McCrath also toured with Athletes-in-Action to South Africa in 1996.
After graduating from SPU, he became an assistant coach at Pacific Lutheran University prior to becoming the head coach at Inglemoor High in the Seattle area. In his six seasons with the Vikings, he compiled a 63-25-13 overall record and a 48-17-7 mark in league play, was named 1992 King County High School Coach of the Year, and led Inglemoor to the state playoffs twice.
Steve, who holds an "A" coaching license from the United States Soccer Federation and an NSCAA premier license, has also served as a coach for Washington's Olympic Development Program for five years.
He earned his bachelor's degree from Seattle Pacific in Communications in 1990 and received a master's degree in Sports Administration in 1993, also from SPU. Steve and Katie McCrath have one son, Kieran and a daughter, Sienna.