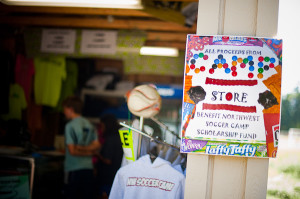 Northwest Soccer Camp Store is designed to serve NSC day and resident campers, their families, and NSC staff by providing snacks, beverages, clothing and notion items to help make the camping experience more enjoyable.  Campers deposit money to their individual accounts at opening day registration. Both Friday and Sunday sales are on a cash/credit card basis. When campers come to the store once each day Monday through Thursday to purchase items, the sale is deducted from their account. Campers are limited by store policy in the amount of snacks and beverages they may purchase according to age. Those over 10 years of age may purchase two beverages and two candy/snack items; campers 10 years of age and younger may purchase one beverage and one snack/candy item.  We encourage you to discuss with your child their spending limit.  Deposits of $20 – $30 are the general rule for purchasing snacks and beverages.  However, if a camper desires to purchase clothing, additional funds will be necessary. If your child runs out of money during the week, we will contact you to see if you would like to add funds to their account. If you do NOT wish to be contacted, please let us know by sending your message, including camper's name and date of attendance, to help@nwsoccer.org.
Store Refunds: Depending on the method of payment, unspent store money is returned on your child's last Friday at camp or during the week following their last session. 1) In-person debit/credit card: If less than $5 remains on account, pick up a cash refund in the store before leaving camp on Friday*.  If $5 or more remains, you will receive a check in the mail. 2) Cash: Pick up your cash refund in the store prior to departure on Friday*.
*All in-store debit/credit card refunds of less than $5 and all cash refunds not picked up prior to departure on the Friday of a child's last camp week of the summer will be donated to Northwest Soccer Fund.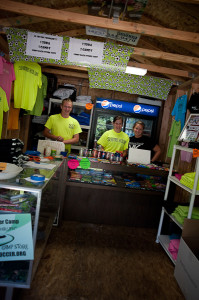 Campers are welcome to bring their own nonperishable snacks to use throughout the week and many enjoy receiving care packages from home. (See Camp FAQs for info about sending a care package.)
On Sundays and closing days the Shirt Shack is open for personalized screening of T-shirts and sweatshirts.  Campers may select from an array of designs to be heat transferred onto a shirt of their choice.  The names of all camp attendees may also be purchased and transferred onto the back of shirts.  The price of each shirt includes one screen;  each additional screen is $5.  VISA and MASTERCARD are accepted at both the Store and the Shirt Shack.
Questions regarding Northwest Soccer Camp Store may be directed to:
help@nwsoccer.org.
Sample Food Prices
Price ($)
Snacks/Candy/Gum
Soda/Juice
Gatorade
Pretzels/Jerky/Granola Bars
Water
1.50
2.00
2.00
1.50
1.00
Sample Notion Prices
Price ($)
Pins
Necklaces
3.00
5.00
Sample Clothing Prices
Price ($)
Hoodie/Sweatshirt
Goalie Gloves
Adult shorts
Youth shorts
Adult Socks
38.00
15.00
10.00
10.00
5.00
Sample Shirt Shack Prices - (includes one transfer)
Price ($)
Hooded Sweatshirt
Long sleeved T-Shirt
Short sleeved T-Shirt
Polo
38.00
25.00
16.00
25.00